Apart from most cleaners where you would have no control over the cleaning process or cleaning products that are used in wash, we are trying to give the most control over the wash to our customers. We do not want to use "some industrial detergent" with attractive price of $5 per gallon/bottle. We want you to know what you pay for and therefor we gathered this set of cleaning products over which you have complete freedom to use.
Detergents Team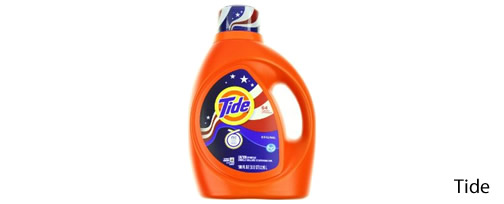 Tide
- (liquid detergent) is almost the classic detergent of American household laundry today.
No one has any doubts that tide does a decent job, removes stains, doesn't damage the fabrics and leaves a nice scent after the wash. Might not be the cheapest option, but classic doesn't have to be cheap.
Price:
$$$$
Additional:
Although we use only original Tide, it's also available premixed with Downy, Clorox, Tide Cold Water and many other's. Available in bottles of all sizes.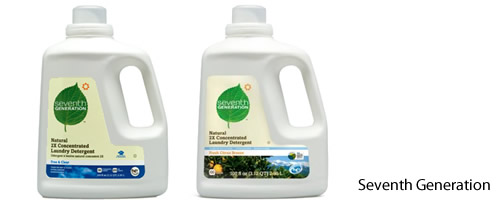 Seventh Generation
-(liquid detergent) eco friendly and hypoallergenic detergent.
It's made using only natural products and 100% no harmful chemicals. It's safe for environment and for people in case left unattended and swallowed by kids it will be as harmful as other not green detergents. It won't do much damage to your wallet as well.
Price:
$$$
Additional:
We use only fragrance free "Free and Clear" version of it, but it's also available with "Blue Eucalyptus & Lavender" and "Fresh Citrus Breeze".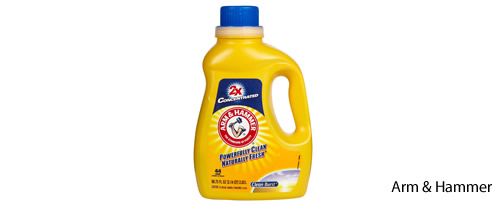 Arm & Hammer
- (liquid detergent) great option for your laundry detergent, tough detergent with the tough name.
Good option for a laundry detergent if you don't like classics like Tide, Arm & Hammer is the one to go with. It's almost twice cheaper than his rivals.
Price:
$$
Additional:
Arm & Hammer usually comes in bigger bottles. It has lots of different premixes, with clorox, vanish or others.
Softeners Team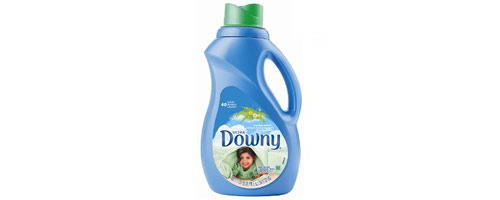 Downy
- (fabric softener) is leading softener on the market.
Like Tide, Downy became almost classic fabric softener. Perfectly softens clothes and leaves nice fresh scent. Need to be careful not to pour to much in washing machine because some concentrated packs need just a bit to do the job.
Price:
$$
Additional:
Available in many scents and versions. We use only "Ultra Downy April Fresh".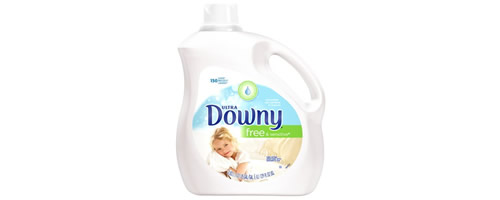 Downy Free & Sensitive
- (fabric softener) is leading softener on the market, fragrance free and sensitive skin version.
Many people have bad skin reaction or just don't like scent on their clothes, but still want clothes to be soft and nice on touch. Best for people with skin allergies.
Price:
$$$
Additional:
Its Hypoallergenic.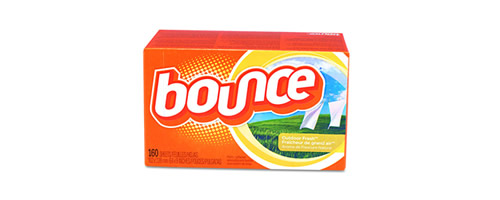 Bounce
- (dryer sheets) different kind of softener, sheets for dryers.
Many people don't have an option to include liquid softener in the rinsing cycle. Bounce is a good way of softening fabric when drying in the dryer machine. It leaves nice scent, helps controlling static, and repelling hair and lint.
Price:
$$
Bleach Stand Alone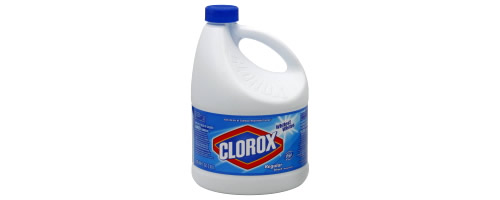 Clorox
- (bleach) standard bleach, tough on stains. Fights everything, literally everything. Don't fight with it.
Bleach has been in a good service for a long time. Makes whites whiter, fights all stains, leaves the least smell. Be careful when using on color clothes and with amount pouring into washing machine.
Price:
$$
Additional:
Can damage fabric if used too much and often.