Year over year we see new laundry services on demand being launched and old ones going out. It is impossible for you to try them all, or you wouldn't want to risk it since you've happily been using your cleaner around the corner for years. Or you may just want to know the differences before trying them.
We have collected all information that you need before making a decision about which service to try first. We have selected the biggest laundry on demand services on today's New York market. It's FlyCleaners, Get Cleanly, Next Cleaners, and, of course, Liox. Some basic information is listed in the comparison table below.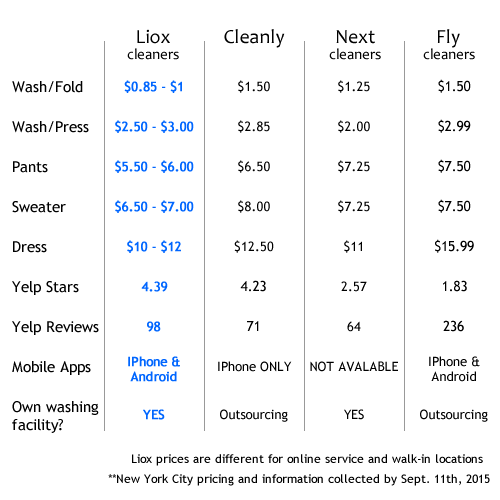 Liox Cleaners
Liox has its own online system for pickup and delivery. You will have your own account where you can keep track of your spending, recent orders, status of orders, etc.
You can use our website or download the supereasy mobile app for Android or iPhone to make an order for washing or dry cleaning. Functionality of the app is limited to submitting orders and checking the status and information of the last submitted order. To sign up you have to use the website.
In addition to service on demand Liox has stores around the city, currently 3: Lower East Side, ABC City, and Turtle Bay area. All stores are connected to each other. Once you become a customer in one, you become a recognized customer in all of them thanks to the shared digital database. There is no need for any receipts in Liox, especially hand written ones, they're the 21st century people. Once your order is ready for pickup, you'll receive a text message with an update, cost of cleaning, and payment status.
The Liox pricing model is different for online on demand customers and local walk-in customers. If by bringing your wash to a Liox store you would get charged $1 per lb by the weight of your laundry, online customers pay per load (Liox brand laundry bag) which holds 20lbs of laundry and has a flat cost of $20 for one load and $15 for any additional loads. That brings the cost of 2 loads down to around 87 cents per lb. Dry cleaning on demand will be a bit more expensive for some items. Wash and Press shirt online will cost $3 as opposed to $2.50 in store. One thing not to be fooled about is that ALL shirts are hand pressed, which most cleaners would consider a premium service and charge a minimum of $5 per shirt for.
Liox washes all garments in its own plant in New York. This allows us to deliver high quality of service, quick turnaround, and ability to fulfil custom requests. You can see the result of all this hard work on Yelp, where the 3 locations average 4.47 star points with the total of 74 reviews as of April 2, 2015.
On October 15th, Liox wash and fold price raised to $25 per load and $20 additional loads bringing the cost up to $1.125 - $1.25 per lb if calculated for 2 - 1 loads.
FlyCleaners
FlyCleaners has a great mobile app, a website to read more about their service, and a fleet of trucks delivering laundry. In order to make an order you have to have the latest Android or iOS phone to use their app. There is no option to make an order through the website. That limits people's ability to use their service. Also the only way to communicate with the company is by email or Twitter and there's no phone number to call, which limits the ability to make any adjustments to existing orders or troubleshoot any issues.
Fly started by delivering in the north of Brooklyn only, then quickly expanded to Manhattan. Albeit they do a good job of making the ordering process simple and getting your laundry back to you fast, they don't have their own washing facility. For that reason they can't control the quality or safety of the cleaning process.
Their trucks can be seen all over Manhattan rushing to get people's laundry and dry cleaning back to their customers, but due to increasing volume of orders and traffic conditions given the size of their trucks (they're not exactly small) they fail to fulfil all coming orders in time. The result is bad reputation among their users. But they do try hard to make it right in every case possible.
We really love the idea and admire how much work they have done and are doing every day. One thing that remains is that it is not more than just a delivery service. All the messups that contractor laundromats and cleaners make to FlyCleaners customers end up being big punches to their reputation and financial standing.
Pricewise Fly manages to maintain the middle tier. The cost of dry cleaning is very similar to Liox's online service, Cleanly and Next's regular dry cleaning, and the green cleaning option costs 10% more, which is much more expensive than Liox's store locations. The cost of wash and fold is $1.5 per lb in the city.
Cleanly
Cleanly have launched their service in early 2014 and started by delivering to Upper West Side, quickly expanding to Upper East Side and Midtown. Their model is almost identical to Washio' on the west coast and similar to FlyCleaners, with the exception that they don't have their own fleet of delivery trucks.
They have a phone number to call if you have any questions. Their hard work has resulted in an excellent reputation of 4.23 average Yelp star points with the total of 71 Yelp reviews by September 11th, 2015. The website is still work in progress. The last time we used it it didn't allow us to update the home address, and the mobile app is only available for iPhone users.
Pricewise Cleanly stands as the most expensive service among all contestants at $1.50 per pound of washing. Dry cleaning prices are higher as well, depending on the item. As well as FlyCleaners Cleanly is designed to be a middleman between laundromats/cleaners and consumers. They don't have their own facilities, which may scare some people away, but so far they have been doing their job pretty successfully.
Next Cleaners
Next Cleaners have been expanding very rapidly within and outside New York city. In just one year they launched around 10 stores buying competitors, and launching their own, bringing their number to 20 (New York and New Jersey). You may see their brand new cars circling around the city. While they do offer service on demand and have a website where you can find all important information about their service, they don't own the ordering system nor mobile apps, but use ordering forms provided by Delivery.com which is still under development and has lots of bugs.
While they may not be big on tech, they own their washing facilities, which is a big plus. There are actual stores where you may walk in and ask questions or raise concerns. Despite big local support and constant service growth they lack quality control, which results in only 2.57 average Yelp star points with the total of 64 reviews.
Next's prices are lower than Cleanly and Fly's, but still a bit higher than Liox online and local's. Wash and Fold would cost you $1.25 per lb, and $7.25 for dry cleaned pants or sweater. While Next Cleaners is not exactly uber for laundry, it offers the same conveniences as other services in this comparison.
Conclusion
While these 4 services are still on the market and still developing, it's good to mention other services gone or cut down to almost nonexistent, such as Prim on the west coast or Green Apple Cleaners in New York. While they were big players just a few years ago, today is a very different picture. There will be more laundry startups coming up in the next few years with the rise of mobile development for services on demand trying to make a fortune out of lazy citizens like you and me. One important thing should not be forgotten: laundry is a low margin service industry where quality must be above all other factors, and it doesn't matter how many clicks you need to make to have your laundry picked up if it comes back dirty, damaged, or doesn't come back at all.